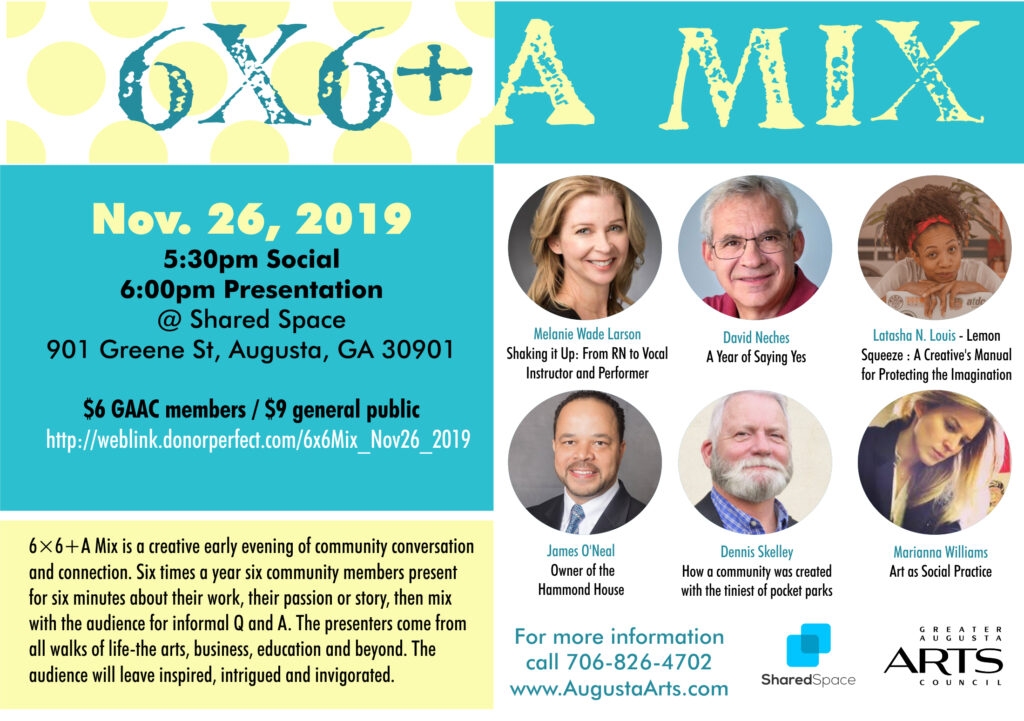 What is 6×6+A Mix?
6×6+A Mix is a creative early evening of community conversation and connection. Six times a year six community members present for six minutes about their work, their passion or story, then mix with the audience for informal Q and A. The presenters come from all walks of life-the arts, business, education and beyond. The audience will leave inspired, intrigued and invigorated.
The 6×6 format
Presenters have exactly 6 minutes to share their story using words and images. To add to the fun and the challenge, their slide decks are timed to advance on their own (no clicker!) After the final presentation, each speaker will take one question, pulled from cards collected from the audience. The evening ends with a mixer- time for you to ask more questions and connect with all the 6x6ers and fellow audience members.
When/Where/how Much?
Organized by the Greater Augusta Arts Council and hosted by SharedSpace-Augusta, the next 6×6 is Tuesday, November 26, 2019 — 5:30 pmsocial, 6:00 p.m. presentations begin. Location : SharedSpace, 901 Greene Street in downtown Augusta. Cost $6 Greater Augusta Arts Council members, $9 all others. Order online at http://weblink.donorperfect.com/6x6Mix_Nov26_2019 .