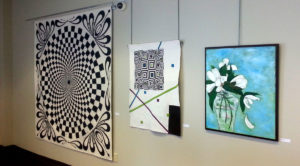 Exhibit Your Work with The Greater Augusta Arts Council
Are you interested in showing your work with the Greater Augusta Arts Council? There are currently two gallery showing opportunities available, which are open to all visual 2D artists in the Augusta River Region of Georgia. Both opportunities are free to apply, and have their own set of requirements.
THE AUGUSTA CITY GALLERY
The City Gallery is located in the lobby of the Augusta Richmond County Municipal Building at 535 Telfair St, Augusta, GA. The City Gallery is managed by the Greater Augusta Arts Council on behalf of the City of Augusta, to celebrate local talent and promote vibrant cultural arts in Augusta. Shows are typically held every 3 months. Exhibition proposals are currently being accepted for unique shows featuring single artists, collaborations, history displays or more. Click the button below to learn more.
Current Gallery Status: Closed to New Applications
[Check back later or join our artist newsletter to be told of upcoming shows!]
AUGUSTA & CO. Gallery
Augusta & Co is a visitor's shop located at the offices of the Augusta Convention and Visitor's Bureau offices at 1010 Broad Street. The Gallery in the space will feature a rotating display of art by local and regional artists for sale. For more information about participating in this gallery, email the Gallery Coordinator at gallery@augustaarts.com.
Current Gallery Status: application available for "Feed Me Seymour! plant takeover" show from March 8 – May 28, 2021
---
Here are some other gallery opportunities and places to show your work in the River Region:
Augusta Arts Businesses
Are you looking to get involved with Augusta Arts Businesses, whether a gallery, performance venue, or other organization? Check out our lists of Augusta Arts Businesses and Member Organizations to get started!