Fun Things to Do in Augusta | April 2021
You can find more information about these events and more on the Arts Council's online calendar! Don't miss out on incredible events throughout our community.
1st Annual Jamburg Jazz Festival, North Augusta | April 8-10, 2021
Event Dates: April 8-10, 2021
Venue: BEC PLEX
5955 Jefferson-Davis Hwy 1 North Augusta, SC
The Palmetto Park and Pond located on Hamburg Street in North Augusta, SC hosted the great African American jazz performers of the day; Fitzgerald, Holiday, Armstrong, Basie and more during the '30s and '40s. Our Story and BEC PLEX have collectively created the "Jamburg Jazz Festival" in commemoration of the achievements and accomplished of the musically contributions blacks had made to jazz music. April 8, 9, & 10th From New Orleans, to Dixieland, swing and straight ahead jazz the influence these artist have made are insurmountable. "Jamburg" is an outstanding weekend of the evolution of jazz from the African Roots, to the Harlem Renaissance to the development of the Chitin' Circuit. This is a don't miss musically experience!
Moonlight Music Cruises Return | April – August, 2021
Event Dates: April-August, 2021
Ticket Prices: $27 individuals; $25 seniors, military, students
All boat tours depart from the Canal Discovery Center at Enterprise Mill, 1450 Greene Street, weather permitting.
There are two departure times for this event, 6PM and 7:30PM. Ticket Prices: $27 individuals; $25 seniors 60+, military, students Due to COVID-19, with social distancing regulations, the boat only holds 15 passengers.
The Petersburg boats are uncovered, so dress for the weather (hats, rain gear, sunglasses, sunscreen, etc.). We provide umbrellas on board, should the weather require it. Flat-soled deck or tennis shoes are strongly recommended, as you will be descending five narrow steps to reach the boat deck. Passengers may bring beverages and snacks aboard for personal consumption.
The Hole-In-One MusicFest | April 10-11, 2021
Event Dates: April 10-11, 2021
Venue: Virtual Event
The Augusta Jam returns to Masters Week in partnership with the City of Augusta and Mayor Hardie Davis. Join to celebrate the most celebrated sporting event in the world through music and culture.
The event promises some of the most exclusive cultural experiences as you enjoy conversations, panels, and performances, all while experiencing the best that Augusta has to offer. This event will travel to Augusta Jam and The Mayors Week through virtual programming and social connectivity.
Guests will have the chance to engage in dynamic discussions and mingle with some of the most distinguished names and personalities in the game. Additionally, guests will have the chance to engage in dynamic discussions, watch performance opportunities, reminisce and converse with some of the most distinguished names and personalities in the game. Registration is complimentary and can be completed below. Check out the details below for the schedule of events once it is finalized.
Boots, Brews and BBQ | April 16, 2021
Event Date: April 16, 2021
Time: 6-9pm
Venue: Columbia County Amphitheater
FREE Admission to the Boots, Brews and BBQ on Friday, April 16th at Columbia County Amphitheater. Join us from 6pm to 9pm and enjoy local barbecue, beverages and music by Jared Ashley!
For additional information, contact 706.868.3484
Elizabeth Moretz Britt and Staci Swider Art Exhibition Artist Reception | April 22. 2021
Artist Reception: Thursday, April 22, 4 – 6 pm
Venue: Sacred Heart Great Hall
Staci Swider's visual history includes stints as both a corporate and freelance textile designer, professional painter, and author. Her work is exhibited at many galleries across the Southeast. Currently she paints with acrylics, layering those with oil pastels and grease pencil, incorporating a little collage on occasion, and building things just to shake it up a little. She is a Certified GOLDEN Artist Educator and in addition to yearly artist residencies abroad she enjoys taking groups of artists to Europe to paint.
Elizabeth Moretz-Britt was born in Utah, raised in Augusta and now resides in North Augusta. Influenced by a line of artistic women, she attended Queens College in Charlotte and received a Bachelor of Fine Arts Degree in Painting and Drawing from the University of Georgia. Elizabeth has studied in France, Italy and at the Scottsdale Artist School with Milt Kobayashi. Her work is influenced by the Impressionists and Fauvist painters of the 20th century, along with her personal environment and the people who surround her.
The 8th Annual Augusta Blues Festival | April 23, 8PM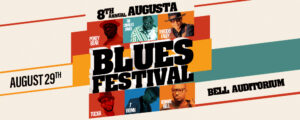 Artist Reception: April 23, 8pm
Venue: Bell Auditorium
The 8th Annual Augusta Blues Festival featuring Pokey Bear, Sir Charles Jones, Tucka, Theodis Ealey, J'Wonn, and Ronnie Bell returns to the Bell Auditorium on March 20.