Galleries programmed by the Arts Council

The Greater Augusta Arts Council currently coordinates two gallery spaces in Augusta, Georgia. The first is the City Gallery, featuring quarterly solo and group exhibitions of artwork. The second is located in Augusta & Co, the visitor's gift shop in the offices of the Augusta Convention and Visitor's Bureau, opening in April 2019.
These galleries feature local and regional artists throughout the year, exhibiting the breadth of artistic talent we have in the Augusta River Region. More information on each Gallery space is below. Are you an artist that would like to exhibit in one of these two spaces? Click here
City Gallery at the Municipal Building

The City Gallery is located in the lobby of the Augusta Richmond County Municipal Building at 535 Telfair St, Augusta, GA. Shows are typically held every 3 months. Exhibition proposals are currently being accepted for unique shows featuring single artists, collaborations, history displays or more. Below you will find the information on the current exhibition.
CURRENT EXHIBIT: Through the Fire: the Living Legacy of Laney Walker Bethlehem
Augusta Housing & Community Development invites you to a community photo exhibit on display for the entire summer in the City Gallery at the Municipal Building. Born through redevelopment efforts with the Georgia State Historic Preservation Office, the exhibit will feature photos of nearly 20 historic structures in the Laney Walker neighborhood, many of which no longer exist. It is our hope that the exhibit sparks your interest in preserving the legacy of the Golden Blocks, cementing its place in Augusta's history and future.
Augusta & Company Gallery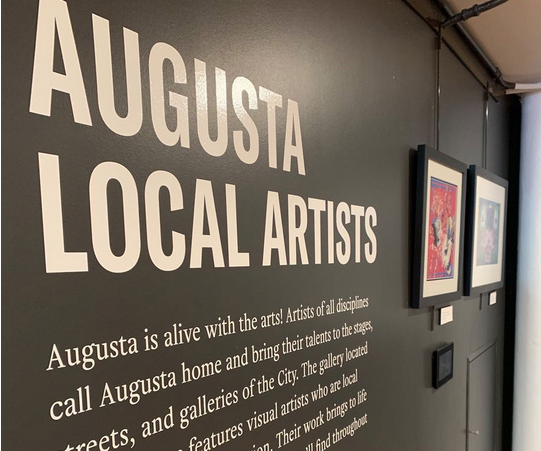 The Augusta & Co Gallery is inside the ACVB visitor's center and retail experience, Augusta and Company at 1010 Broad Street. Artwork by Augusta-based artists is displayed alongside locally made goods.
Open M-F 8:30am-8:00pm , Sat 10am-8pm, Sun 12pm-5pm
Artists on Display April 2019-September 2019: Michael Drake, Alex Foltz, Lillie Morris, Carmen Moses, Sanjeev Singhal