CALL TO ARTISTS
Date Call Opens: August 1, 2019
Application Deadline: October 1, 2019
Announcement of Selected Artist: November 1, 2019
Stipend: $1,000
The staff, volunteers, and patrons of the McBean Community Center & Park, located at 1155 Hephzibah – McBean Rd, Hephzibah, GA 30815, have advocated for quality of life enhancements to their beloved community center and park, and are seeking to spark positive community change through art. Their goal is to have an artist create one to three (1-3) engaging and whimsical chess tables and seating for patrons of McBean.
The McBean Community Center & Park sits on 22 acres of land in rural Hephzibah. It primarily serves senior citizens in the mornings, and children in the afternoons. Recreation & Parks is seeking ways to make the park even more of a multi-generational community asset. Senior citizens who use McBean have requested that staff provide them with a chess set. Through a series of conversations, a group of McBean staff, volunteers, artists, patrons, and Arts Council staff decided that the best use for a grant for public art for McBean would be artist-created, permanent, outdoor chess tables and seating. The goals are to allow the growth of intergenerational engagement through chess, and to create a uniquely designed feature for the grounds of McBean Park.
To beautify McBean Community Center & Park and promote intergenerational engagement, the Greater Augusta Arts Council will commission an artist to create one to three (1-3) engaging and whimsical chess tables and seating for patrons of McBean, dependent upon the artist's use of the grant's $1,000. This creative element will activate this public space and increase livability by providing innovative design accessible to all ages and abilities.
The commissioned artist may use any easily maintainable materials, including but not limited to concrete, paint, ceramic tile, and welded metal. Components may be recycled or newly formed. The commissioned artist's work must prioritize durability, accessibility, safety and structural integrity, and not hinder or compromise the functional use of the park, its amenities, or its ADA accessibility.
All designs will be considered, but artists should keep in mind that the park is used by a wide range of ages, from small children to the elderly. The best design will keep in consideration the playful nature of the space around it, and accessibility to those who use it. Consideration of the budget for the project is required.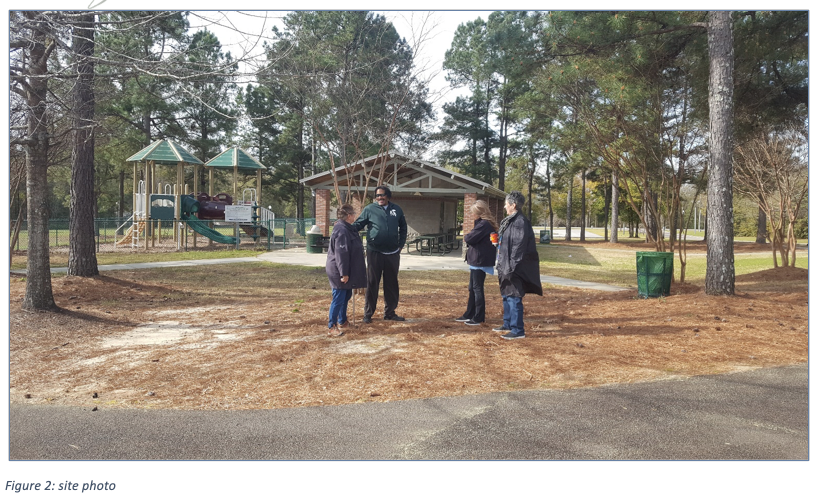 The artist may propose a design for one to three (1-3) chess tables, dependent upon the artist's use of the grant's $1,000. The total amount available at this time is $1,000. If all three tables cannot be commissioned for that amount, the project will be completed at a later date when more funding is available. At that time the Arts Council reserves the right to continue with the original artist or commission a new artist to complete the project.
This project is made possible by a grant from the Junior League of Augusta Georgia, and by funds from the Greater Augusta Arts Council.
OVERVIEW
This document contains everything you need to know to apply for the 2019 McBean Community Center & Park Call for Art. A selected artist will be awarded $1000 to create one to three (1-3) outdoor chess tables at McBean Park. This award will be selected by a qualified Selection Committee. The Selection Committee reserves the right to reject any and all entries at any time in the review and selection process. All artists applying to this call are urged to visit McBean Community Center & Park and the area around to help in the design of an appropriate and appealing work of art.
ELIGIBILITY
All visual artists are invited to apply. Before applying, applicants should make sure that all requirements can be fulfilled, especially the installation and maintenance criteria.
To download the Call for Artist application packet, click on the button below. To be emailed a copy of the packet, email Project Manager Pax Bobrow at pax@augustaarts.com.
Tech tip: You MUST download the application to your computer BEFORE filling it out. Once you download, open the file and fill it out, then save it. You will then email the file to Pax@augustaarts.com
Accessibility: If you are having any accessibility or technical issues, please contact Pax at the Arts Council office either by phone at 706 826 4702 or via email at pax@augustaarts.com